Nick Saban revealed to his players Alabama's first travel roster of the season. Just like every year, the Crimson Tide is allowed to send 70 players to each road game. But due to the current COVID-19 pandemic, Saban said Alabama had to put together "a supplemental list."
"I think the more depth you have on the team, the more guys that have that can go in and play winning football," said Saban during his Thursday night radio show. "But I also think that when you have young players, I think it's very difficult for some of them to realize the importance of learning how to prepare for a game when they don't know for sure if they're gonna play.
"Especially guys that are high-profile that were star players in high school, aight, and now all the sudden, 'You're expecting me to go out here and really prepare to play in this game, but I might not get to play?' But it's so important this year that they understand that because they're one practice away — you always say play away from playing — but they could be one practice away."
The Crimson Tide will travel to Columbia, Mo., this weekend to open its conference-only season against the Missouri Tigers (6 p.m. CT on ESPN). Saban has already said Alabama will make the trip with only one punter, despite a three-player competition at the position. While he didn't name which punter will travel, he did break down how the travel roster is decided.
"Special teams is a big part of it," Saban said. "If a guy's a core special teams player — even if he's not really in the two-deep — you're gonna take that player. We usually try to limit it to four specialists — a punter, a kicker, a snapper. Have somebody else on the squad who can long-snap in an emergency and then maybe one other guy who can kick and punt or maybe kickoff and provide depth for the other specialists, even though he may not be the second-best guy on your squad, you just can't take a bunch of specialists. That leaves 66 players.
"We try to put a limitation on the number at each position. Sometimes is changes relative to injuries. Like we're gonna take 11 offensive linemen, five running backs, at least five tight ends, at least three quarterbacks. We'd like to take eight wide receiver or nine, at least nine defensive linemen. We take like 13 linebackers, but they're all on special teams. And I think we're taking maybe 10 or 11 defensive backs. But after the two-deep, special teams becomes a big part of who gets to go and who doesn't, and we always come up a little short.
"You'd like to take a couple other guys that you feel like deserve to go that might be able to contribute that can't go, but those guys will have an opportunity next week when we play at home."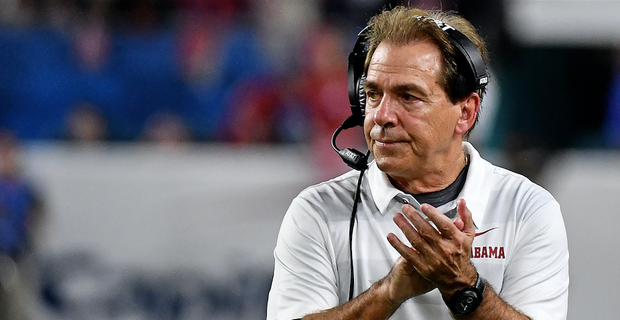 'WE DON'T HAVE A LOT OF GUYS OUT'
Alabama switched to daily COVID-19 testing last week in advance of the season opener. While Saban hasn't released any information on positive cases or, of course, which players have been out with the virus or because of contract tracing, he gave a positive update Thursday.
"We test every day so they feel safe," he said. "We haven't had a lot of social-tracing problems because only have to do it for a short period of time because we are testing every day. We haven't had a lot of positive tests lately, knock on wood. We don't have a lot of guys out for the game. And even though the continuity in practice has not always been what we'd like for it to be, I think the players have shown a lot of maturity, and I think they're ready to play a game."
'DYLAN LOOKS LIKE HIS OLD SELF'
On Saturday, linebacker Dylan Moses will play in his first game since the Crimson Tide's loss to Clemson in the College Football Playoff title game. Recovered from a knee injury that sidelined him for the full 2019 season, Saban provided a promising update on Mike linebacker.
"I think the last two weeks, Dylan has looked like his old self. I think one of the things that I never realized about injured players until I had my hip replaced last year is sometimes you keep waiting for it to hurt even when it doesn't hurt any more. … I think sometimes that's one of the biggest psychological hurdles that a player has to overcome when he's coming back from an injury. In the last two weeks, I've seen Dylan turn it loose and go for it like he played in the past.
"Up until that time, I thought he played good, but I could tell he was still a little bit tentative. Not at all now. Very focused, been a good leader for the team, has helped the guys, I think, with his experience and knowledge and ability to call things and make adjustments. I think he's just as good as he ever was."
Did you know BOL has a podcast? The Built By BamaOnLine Podcast brings you the latest Alabama news and insight from Travis Reier, Charlie Potter, Hank South and Tim Watts. Catch the latest episode right here or subscribe on iTunes today!
Contact Charlie Potter by personal message or on Twitter (@Charlie_Potter).