The development of space tourism may still be in its nascent stages, but insurance startup Battleface is looking to stay ahead of the curve with what it claims is the market's first civilian space travel insurance plan.
Launched earlier this year, Battleface's space insurance policy is highly customizable, offering many of the same protections typically covered by more traditional travel insurance plans, including trip cancellation and interruption benefits. 
Sasha Gainullin
"For example, you may have to travel to Texas just to get to your space launch," said Battleface CEO Sasha Gainullin. "So, standard travel insurance is still an important part of your journey from the time you leave home to the time you come back."
Unlike regular travel insurance, however, the company's space travel protections also include add-ons like accidental death and permanent dismemberment coverage. The policy is also far more costly, due to the high expense and risk associated with space travel.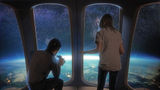 Photo Credit: Courtesy of Space Perspectice
When are astronauts not astronauts? When they pay their own way into space, says NASA. But the growing overlap between exploration and adventure travel is redefining both categories.
"It's very much geared toward individual travelers," said Gainullin. "We have to understand their background, financial situation, nationality, what they're looking for in terms of coverage, the training they're going through and just how safe it is for them to be going into space."
Gainullin added that Battleface's space insurance product, which is underwritten by Lloyd's of London, remains a work in progress. The company plans to adapt its insurance offering as the space tourism landscape continues to evolve.
"One problem we'll need to solve in the future is how to actually provide assistance [in the event of] an emergency space evacuation," said Gainullin. 
Although it's early days, interest in Battleface's civilian space travel insurance has already proven to be fairly robust. The company has been fielding numerous queries from specialty tour operators and travel agencies building a focus around space tourism as well as from brokers working to organize space travel for high net worth individuals. 
Just how big the space tourism market is set to grow remains to be seen, but a recent report from Lloyd's projects that the space travel industry is on track to be worth $1 trillion by 2040.
According to Gainullin, civilian space travel could go relatively mainstream sooner than many might imagine.
"Just last week, we were on the phone with a U.K. travel agency that's building out an entire model around space tourism, and within the next couple of years, they're expecting to have space mission trips up to four days in length," said Gainullin. "So, certainly it's becoming more and more serious as an industry. And if the pricing [goes down a level], then I think it could become much more like a standard trip type."
The foray into space travel insurance appears to have been a natural next move for Battleface, which, since launching as a consumer-facing insurance model in 2018, has long specialized in travel insurance products for travelers interested in remote destinations as well as more adventure-oriented activities.
The company has also put a strong emphasis on working with travel agencies, especially those with a focus on adventure and other niche travel experiences.
"What we've seen, especially now, is that a lot of travel agents are specializing in a [specific field], whether that's trips to Antarctica or trips to space," said Gainullin. "And those are the types of travel agencies that we love to work with."